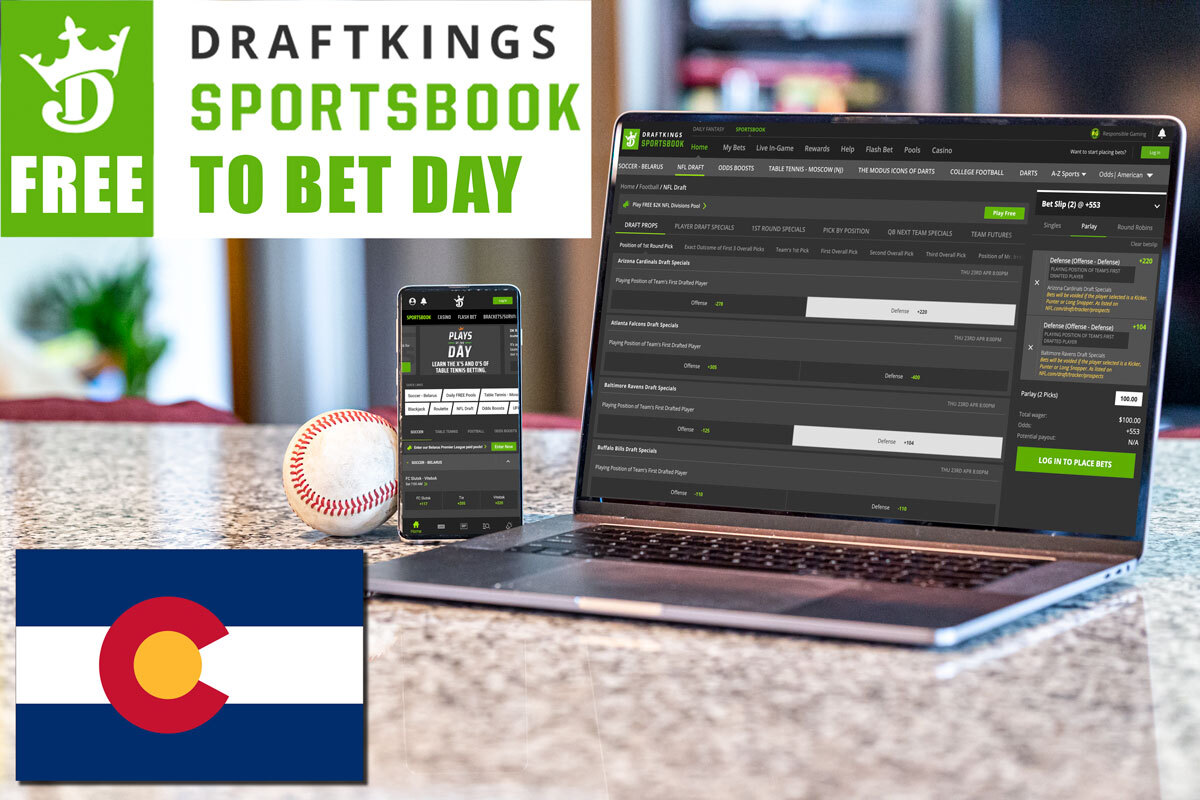 DraftKings Sportsbook FAQs
Which deposit methods can I use with DraftKings Sportsbook?
DraftKings Sportsbook allows PayPal use, which includes American Express. It also accepts all major credit cards, including VISA, Mastercard and Discover.
Is it safe to place my sports wagers with DraftKings Sportsbook?
DraftKings Sportsbook is a trusted and regulated U.S. sportsbook. So yes, your personal information, up to and including back information, will be safe and secure with DraftKings Sportsbook.
Can I cancel a bet on DraftKings Sportsbook?
You will not have the ability to cancel a wager on DraftKings Sportsbook, per its terms and conditions. Always make sure any one specific sports bet is what you want before you officially place the wager.
Colorado Sports Betting FAQ
Is sports betting legal in Colorado?
Sports betting is legal in Colorado. Following the 2019 passing of HB19-1327, Proposition DD was approved by the state's voters in November 2019, meaning retail and online sports betting commenced in-state on May 1.
Where can I bet on sports in Colorado?
The short answer is everywhere—if done via a mobile device.
Colorado is permitting 33 of its nearly 40 retail casinos to apply for a master sports-betting license, which allows such operations to partner with one land and one online sportsbook—though not all of these casinos will offer sports betting.
Colorado's retail casino locations are located in one of three towns: Black Hawk, Central City and Cripple Creek.
Black Hawk and Central City, which are located only a mile apart, tend to draw players from the greater Denver area, while Cripple Creek draws from the Colorado Springs region. Additionally, there are two casinos owned and operated by Native American tribes in the southwest corner of the state (Ignacio and Towaoc).
What sports can I bet on in Colorado?
Currently, wagering on national and international professional sports, major college sports, motor racing and sanctioned video game sports are permitted. Within that context, straight win/loss bets, prop bets, total betting and other popular forms will be legal. Colorado lawmakers are expected to provide further clarification on which markets will be offered upon launch.
Is online sports betting legal in Colorado?
Yes. Colorado's sports betting bill allows 33 of its nearly 40 casinos to partner with online sportsbook operators, permitting anyone that is physically present within state limits to wager via desktop, laptop, or mobile device.
When did sports betting go live in Colorado?
Legislation passed by Colorado lawmakers stipulates that legal sports betting can begin on May 1, 2020.
Will I have to be in Colorado to bet?
Yes. Colorado law states that in order in order to participate in legal online sports betting, one must be physically present within the confines of the state.
Do I have to have a Colorado address to bet?
No. It is not required that the sports gambler reside in Colorado to place online wagers. Rather, a person must simply be physically present within state limits.
How old must I be in order to bet in Colorado?
As is the case in all states where sports betting is legal, bettors must be at least 21 years of age.
What types of bets can I make in Colorado?
Casino sportsbook locations offer spread bets, moneyline bets, totals bets, futures bets, parlays, in-game betting and other traditional wager types. However, New York sports bettors are not permitted to bet on college or amateur teams within the state.
What are Colorado sports betting tax rates?
Colorado legal sports betting is expected to thrive because of several advantageous factors. Among them is the extremely favorable 10% tax rate paid of sports betting profits by casinos and online sportsbook operators. The 10% rate is among the most favorable in states where sports betting is legal, meaning the state should be an extremely attractive landing spot for some of the industry's top players.
By way of comparison, New Jersey offers an 8.5% tax rate for in-person sports wagering and a 13% online tax, while Pennsylvania holds a much higher 36% rate.
Where will the 10% tax revenue be spent?
One of the reasons sports betting drew bipartisan support from lawmakers is because the tax revenue would go toward the Colorado Water Plan, which includes irrigation, water storage and other related projects to help deal with future climate change and expansion.
Can I bet on high school sports in Colorado?
No. Under the state's sports betting laws, wagering on high school sports is prohibited.
Mardi Gras Casino
DraftKings Sportsbook entered the Colorado sports betting market via a partnership with the Mardi Gras Casino in Black Hawk.
Address: 300 Main St, Black Hawk, CO 80422
Phone: 303-582-5600
Top Colorado Competitors
Getting Started With DraftKings Colorado
Getting started with DraftKings Sportsbook Colorado will only take a brief moment. Begin the registration process by clicking right here.
From there, simply make your first deposit and place your first risk-free offer of up to $1,050. Be sure to check out DraftKings's odds and other daily promos along the way.