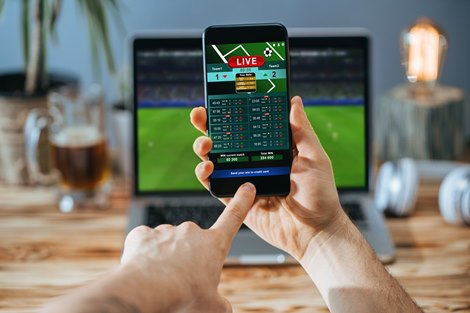 The New York Racing Association believes a new mobile sports betting measure in the state will permit bettors under the future system to wager on horse racing.
The lead sponsor of the measure in the Senate has a simple response: no, it doesn't.
Much about the mobile sports betting deal in New York, due to be given final passage the night of April 7 in the Assembly after it was passed overnight in the Senate in Albany, is confusing even to the gambling industry. The bill went through many changes over the past week as sides shared draft language ideas, before a final agreement was reached Tuesday by negotiators for lawmakers and Gov. Andrew Cuomo.
On April 6, Sen. Joseph Addabbo, a Queens Democrat who has carried the measure for several years, said the new deal does not permit mobile sports betting on horse racing, but that NYRA can still go ahead with its existing mobile platform wagering.
But NYRA spokesman Patrick McKenna, in a written statement Wednesday afternoon, said that the new legislation "in no way precludes sports betting platforms from offering horse racing.
"This provides NYRA with the opportunity to showcase our premier Thoroughbred racing in the rollout of sports betting in New York," the spokesman said.
Additionally, McKenna said, "NYRA can now partner with entities seeking to offer sports betting in New York."
But Addabbo, in an additional interview Wednesday afternoon, repeated that pari-mutuel wagers through the mobile sports betting program is not permissible.
"Going forward, I'm always open to look for expansion" of mobile sports betting, he said. "I've always said the best product is when it's accessible to all."
The differing views involve past and current iterations of the mobile sports betting legislation. Previously, a measure Addabbo, chairman of the Senate's racing wagering and gaming committee, and Assemblyman Gary Pretlow, a Westchester County Democrat and chairman of the Assembly racing and wagering committee, had legislation that specifically said horse racing was not one of the covered sports for mobile wagering. 
The new legislation about to become law does not specifically mention horse racing wagers. It states that wagers can be placed on college and pro sports contests. 
Also removed from the final version this week was language permitting the installation of sports betting kiosks at tracks and OTB parlors. State officials believe the new measure will permit bettors to place sports wagers anywhere in the state via servers placed at commercial casinos based in upstate. There is no set timeline for the new mobile program to begin, but officials say it could be by year's end.
The state gaming commission will now have to go through a regulation-writing process to determine a range of specifics for implementing the program. It will also choose the companies that will participate in the expanded gambling offering.
Cuomo believes mobile sports betting will be worth, in several years, about $500 million in annual tax revenues to New York State.