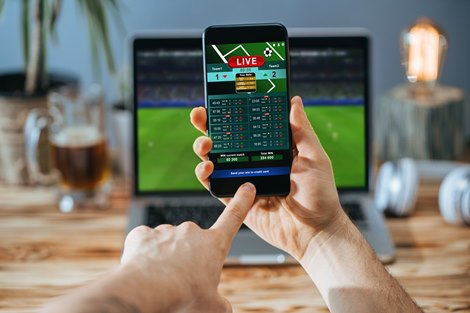 State lawmakers in New York are advancing a new mobile sports betting legalization measure, while Democrats who control the Senate are pressing to add three new commercial casinos in the New York City area with a nudge to potentially helping make one of them located at Aqueduct Racetrack.
The efforts come as the Legislature is kicking off talks with an embattled Gov. Andrew Cuomo over a new state budget that is due by March 31. (Cuomo is under dueling probes over sexual harassment allegations against him and his handling of COVID-19 in nursing homes over the past year.)
Democrats who control the Senate and Assembly want to expand current sports wagering in New York—now permitted only at four commercial casinos and casinos owned by three upstate Native American tribes—to online offerings. Legislation the two houses submitted over the weekend are closely aligned with only some relatively minor word choice differences between the Senate and Assembly; however, they are far apart in their positions from the more lottery-like plan proposed earlier this year by Cuomo.
The legislative measures would permit mobile sports betting kiosks at racetracks, as well as at off-track betting parlors and stadiums. Mobile sports betting revenue would be taxed at 12% by the state under the legislative bills.
On March 15 the two houses will OK nonbinding resolutions that support Democratic budget bills introduced over the weekend, including the mobile sports betting and casino expansion effort. The resolutions serve as both political shout-outs to various special interests as well as staking out some positions lawmakers want to prioritize in talks over the next two weeks with Cuomo.
On the casino expansion push for the New York City area, the Assembly Democrats are silent; further, they eliminated a plan by Cuomo to bring a "request for information" process that could lead to three new casinos in downstate.
The Senate Democrats, though, are all in for a casino expansion. Presently, there are four upstate commercial casinos, which have not met the state tax revenue projections when they were awarded licenses six years ago due to underperformance in an already heavily saturated gambling marketplace in upstate when racetrack-based video lottery terminal casinos and the Indian gambling halls are added into the picture.
A draft of the Senate bill called for current gambling halls at Aqueduct and Yonkers harness track to be converted from video lottery terminal facilities to full-blown casinos, with real slot machines and table games. That language over the weekend was changed; the new provisions propose three additional casinos in the New York City area, with additional bid scoring weight given to operators who could more quickly open casinos; that would appear to give Genting's Aqueduct facility and the Yonkers casino owned by MGM a leg up on any future potential bidding process if the Senate plan were ever enacted into final law.
The new Senate budget bill among other things would permit casinos to offer betting on horse races. Besides annual taxes on revenues, the three proposed downstate casinos would also have to pay $500 million in upfront licensing fees to New York State. The Senate bill also calls for the state to commence the bidding process before July 1, considerably faster than what Cuomo's plan would permit.