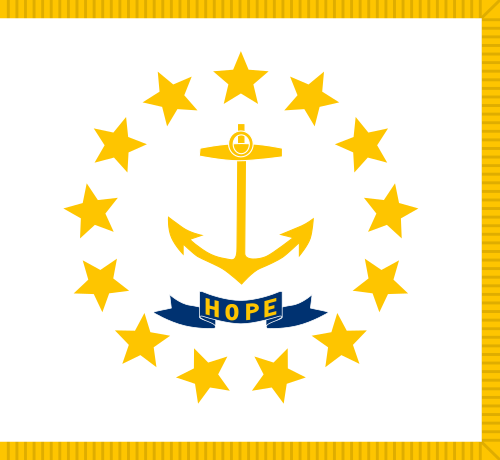 Rhode Island sports betting is now available and you have a number of great options. You can try the new Sportsbook site or app or visit one of the two operating Rhode Island sportsbooks that are up and running.
As of September 2019, you are now able to engage in exciting betting options with Rhode Island online sports betting. No matter how you choose to place your wagers, you will find it to be a rewarding and exciting experience. In this guide, you will find all the important information on RI Sports Betting.
RI Sports Betting Online
The Sportsbook Rhode Island has finally launched in the Ocean State, just in time for NFL season. Bettors can now engage in sports wagering via desktop or mobile from anywhere in the state, as long as they physically register at the Twin Rivers Casino first.
Since March 2019, sports betting is now legal in the state of Rhode Island. The governor, Gina Raimondo, passed the Senate Bill 37, legalizing online sports betting. The Rhode Island Lottery regulates sports betting in the state and both of the land-based casinos have the possibility to offer online sports betting without having to apply for a different license.
With Twin River Casino and Tiverton Casino both going online, an array of games as well as Rhode Island online sports betting will be accessible to anyone located in the state that is over the legal gambling age of 21.
Best RI Sports Betting Online Sites
At this time, there is only one legal Rhode Island online sports betting site operating in the state. The Sportsbook Rhode Island site and app provide you with a secure way to access online sites to engage in wagering.
The online and mobile sportsbook is launched by the Twin River Casino, and in-person account activation with valid ID is initially required to be able to use it anywhere else in the state.
| Land-based Sportsbook | Partner | Status |
| --- | --- | --- |
| Twin River Casino and Sportsbook | William Hill US and IGT | Live for desktop / mobile |
| Tiverton Casino and Sportsbook | William Hill US and IGT | TBA |
Rhode Island Sports Betting 2021
In 2018, Rhode Island entered the sports betting industry, offering two land-based locations where you can engage in legal and fair sports betting. Here, we take a look at the two operating locations and provide you with some great information that will help you get started and begin enjoying the RI sports betting experience.
At the two licensed Rhode Island sportsbooks, you can easily place bets in person, enjoy the atmosphere and engage in live betting. These two sportsbooks are the only operating locations in the Ocean State that support wagers on sporting events, but you will find they will easily meet all of your needs and provide many betting options, great payouts, and even some rewarding incentives.
| Sportsbook | Year Opened |
| --- | --- |
| Twin Rivers Casino Sportsbook | 2018 |
| Tiverton Casino Sportsbook | 2018 |

Twin River Sportsbook
The Twin River Sportsbook was the first to start operating in the state. This RI sports betting venue attracted the attention of thousands of residents looking to start wagering on leading sporting events. The sportsbook quickly gained popularity and now offers a wide range of betting options.
When this location first started offering Rhode Island sports betting, there were only self-serve kiosks available for placing a bet. Now that the sportsbook has gained a large customer base, it has relocated within the casino to a designated area. Here, you can enjoy 100 televisions, betting agents that will process your bet slip, live betting, updated odds and results, and more.
| Twin River Sportsbook | Details |
| --- | --- |
| Welcome offer | N/A |
| Secondary offer (e.g. games, slots, etc.) | N/A |
| Other promos | N/A |
| Payment options | Cash, credit and debit cards |
| Customer service | Live help at Player Services |
| Last verified | 2019 |
Tiverton Sportsbook
The Tiverton sportsbook was the second RI location to open. It started accepting wagers in December of 2018. At this venue, you can enjoy live betting and watch games and results on more than 50 televisions in the sports betting lounge. While the sportsbook is not as large as the one offered at Twin River, it has become the main attraction for those that are seeking to engage in legal sports betting within the state of Rhode Island. Here, you can enjoy a wide range of betting options that start at just $2 per bet and can be as high as $10,000.
At this time, the sportsbook is not offering any type of promotion, but when Rhode Island mobile sports betting or online betting becomes legal, you can surely expect both Tiverton and Twin River to present some amazing bonus deals for the chance to earn free cash to use to place wagers.
| Tiverton Sportsbook | Details |
| --- | --- |
| Welcome offer | None available |
| Secondary offer (e.g. games, slots, etc.) | N/A |
| Other promos | N/A |
| Payment options | Credit cards, debit cards, cash |
| Customer service | Player Support at Service Desk |
| Last verified | Feb 9, 2021 |
Legal Status of Sports Betting in Rhode Island
In 2018, the PASPA was brought down, allowing individual states to legalize sports betting. Rhode Island quickly jumped on board, legalizing two sportsbooks at the end of the year. Now, you can engage in various betting activities at two trusted Rhode Island sports betting locations, one in Lincoln and the other in Tiverton.
Both of the Ocean State sportsbooks are operated by William Hill US and IGT. The sports betting industry in the state is regulated by the Rhode Island Lottery and there is a sports betting tax revenue that is split between the state, IGT, and the operating casinos that house the sportsbooks.
Below, you can see the RI sports betting laws that are currently in place.
| State and Federal Laws | Details |
| --- | --- |
| Senate Bill 37 | Online wagering is authorized in the state as of March 2019 |
| Article 4, Section 2 House Bill 7200 | Budget bill signed into law in June of 2018 |
| RI General Laws for Video Lottery Games, Table Games, and Sports Betting | Laws govern all betting activities at licensed casinos |
| Chapter 20 of RI Lottery Rules and Regulations | Sets all regulations for video lottery operations, table games, and sports betting |
| The Wire Act of 1961 | Federal law in place to restrict interstate wagering |
How to sports bet in Rhode Island
If you want to start enjoying the excitement of Rhode Island sports betting, you will have to visit one of the two land-based casinos that feature a sportsbook. Here, you will find every option to place wagers and collect your payouts. You simply have to visit the Twin River or Tiverton casino and head to the sportsbook.
You will then be able to get information on all the scheduled games and betting options. All you have to do is fill out your bet slip and bring it to a kiosk. You will then pay the bet amount and the bet will be placed. After that, watch for game results and check your bet slip to see if you have won any payouts. Any amount won will be paid in cash at the casino.
There are betting options to suit small and large budgets and there is great coverage of sports and types of bets to place.
To engage in any betting action at these casinos, you will have to be at least 18 years of age.
Rhode Island Mobile Sports Betting
Once the two Rhode Island sportsbooks opened in 2018, the state has been pushing for the legalization of Rhode Island mobile sports betting. The Senate Bill 37 that passed this March does extend to mobile sports betting and apps.
The expansion of Rhode Island sports betting is a leading priority for the Senate President, who introduced the bill that would enable an app to be created so that Rhode Island residents could use their mobile devices to place legal sports wagers within the state's borders.
The Sportsbook Rhode Island is now live and available for desktop and mobile.   At this time, Rhode Island is the only state in New England to offer legal sports betting, so the offering of mobile betting platforms can generate even more revenue and will surely put Rhode Island on the map as being a leader in the world of online betting.
Online Sports Betting in Other States:
Is Betting on Horse or Greyhound Races Allowed in Rhode Island?
At one time, horse racing and greyhound racing were a huge betting opportunity if you resided in Rhode Island. However, there are no longer any live racing tracks operating in the state. If you do wish to bet on these types of races, you can enjoy simulcast races and bet at the two operating casinos in the Ocean State or RI horse betting online. Here, you can enjoy the action of Rhode Island sports betting and can bet on horse and greyhound races that take place all over the country.
Horse racing was present in the stat for a number of years, starting in 1934 at Narragansett Park. In 1947, Lincoln Park started to offer horse racing, but this came to an end in 1976 when many bettors left to start placing wagers at off-track venues in Connecticut. After horse racing ended at Lincoln, the park was sold to the Taunton Greyhound Association but remained operating under the name of Lincoln Park. The first live greyhound races took place in 1977 and continued until 2009, when Lincoln, now known as Twin River, decided to focus on slot games and table games instead of racing.
These live racing venues stopped offering betting due to increased costs and low-profit margins. While the state had not seen live horse racing in many years, all greyhound racing was banned in 2010.
Race Tracks in Rhode Island
The two horse racing tracks that once operated in the state of Rhode Island were Narragansett Park and Lincoln Park. Narragansett began offering live racing action back in 1934, and after 44 years of offering betting and racing, the Park ceased to host live races in 1977. That same year, Lincoln Park also stopped offering horse racing and began providing greyhound racing at the track.  All forms of live greyhound racing were later banned by the state in 2010.
While there are simulcast betting options provided at the operating Rhode Island sportsbooks, you can also head to nearby states to engage in live racing action. In Connecticut, horse racing enthusiasts can find the Shoreline Star Greyhound Park. Massachusetts also has two venues that offer live racing. One is Suffolk Downs and the other is Plainridge Race Course.
What Sports Can You Bet on in RI?
When it comes to engaging in Rhode Island sports betting, you will find the two operating sportsbooks to offer great markets. You may not be able to wager on every sport that is played around the globe, but there are some great betting options. Below is a list of sports that you can bet on when you visit the Tiverton or Lincoln Sportsbooks.
Football
Basketball
Baseball
Hockey
Softball
Soccer
Tennis
Golf
Auto Racing
Boxing
Can You Bet on Rhode Island College Sports?
When you visit the great Rhode Island sportsbooks, you can wager on professional and college sports. You will find a huge list of games that are scheduled for both and while you can bet on your favorite college team, the state does not allow you to place any bet on a Rhode Island-based team. This means you cannot place bets on games that involve some of the top RI colleges and universities like Brown, Johnson, and Whales, RIC, Bryant or Providence College.
You will find great coverage of college sports being offered when you start your Rhode Island sports betting experience. You can enjoy wagers on college basketball, baseball, hockey, and football.
Can You Still Play Rhode Island Fantasy Sports?
If you are interested in the action of fantasy ports, you will have the ability to place wagers online in a secure environment. While live sports betting is now available, you may wish to reap the benefits of daily fantasy sports instead. Betting on fantasy sports is completely legal and you can find some great sites that offer betting options like Monkey Knife Fight, DraftKings and FanDuel.
With fantasy sports, you will not be betting on the outcome of any event. Instead, you will create your own fantasy team, and compete against other opponents. The goal is to achieve points throughout the games which will yield cash payouts. The points that are scored are a direct result of the player's true performances in games, so when choosing fantasy rosters, it is important to be informed of all stats, injuries, trades, and any other aspect that could alter the performance of any individual player at any time.